Bitcoin and the crypto market have seen downside price action on shorter timeframes. The first crypto by market cap has been trading in a tight range this week with sudden spikes in volatility impacting smaller cryptocurrencies.
Related Reading | Dogecoin Soared After Elon Musk Bought 9.2% Of Twitter, What's Next?
Momentum seems to be favoring the bulls as Ethereum (ETH), Solana (SOL), Terra (LUNA), keep their gains as Bitcoin hints at further lows. SOL's price records a 22% profit which makes it the best performing asset in the crypto top 10.
At the time of writing, the crypto total market stands above the important mark of $2 trillion.
Per a recent report from Arcane Research, crypto market participants are at a crossroads. The Fear and Greed index is currently at neutral ground after it saw a major spike from below.
As seen below, the research firm records the metric at 53 which is slightly above Greed levels. As Bitcoin and other large cryptocurrencies move sideways, so has this metric.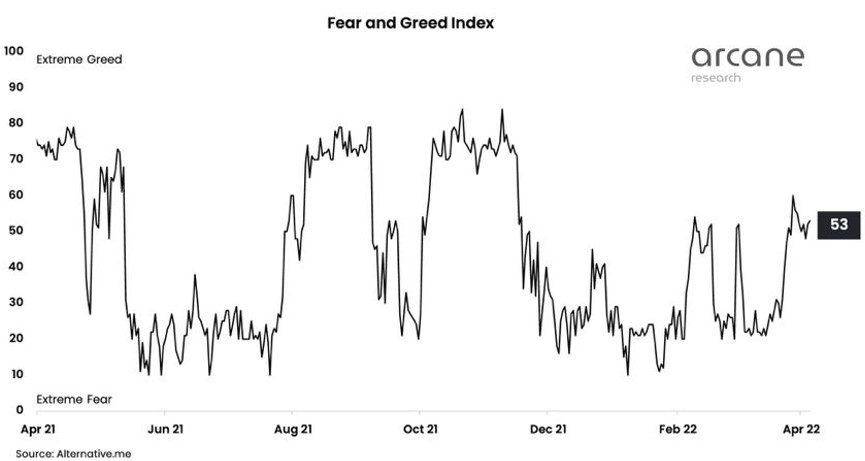 Since December 2021, market participants seem to be leaning more to the fearful side with two separate times when the index stood below Extreme Fear. Sudden moves into either extreme usually signal a price reversal.
The chart above fits this thesis as long periods of fearfulness are followed by a period of greed. This time, as market participants feel greed, Arcane Research hinted at a possible new reversal:
The Fear and Greed Index has stabilized at neutral levels, fluctuating around 50 throughout the week, suggesting a reasonably balanced market sentiment. The index has now trailed around 50 for ten days. The last time this happened, market sentiment plummeted to fearful terrain shortly after.
Additional data from Material Indicators seem to support a bearish thesis. At its current levels, Bitcoin has a lot of resistance. There are over $30 million in asks orders with little support below.
The Factors That Could Play In Favor Of The Crypto Greedy
Although the crypto market could continue to outperform the largest crypto, its short-term performance will impact the altcoin market. The high amount of asks order suggests downside, as mentioned, but there are bullish factors currently at play.
As noted by Yuya Hasegawa, an analyst at Bitbank, The price of Bitcoin has benefited from the United Kingdom Treasury announcement. The financial institution seems to be warming up to crypto as it plans to embrace NFT and stablecoins to improve its payment system.
In that sense, the former EU member hints at a friendlier stand toward digital assets. If the new European regulation on this asset class turns hostile, as it seems to be, the U.K. could become the region's alternative to maintain its operations.
In addition, the crypto market seems to be benefiting from a relief in tech stock companies' prices. These companies rallied, as the analyst noted after Elon Musk announced his acquisition of a 10% stake at social media company Twitter.
Related Reading | Bitcoin Bullish Signal: 30MA STH-SOPR Returns Above 1 After 4 Months
Finally, Hasegawa believes the Bitcoin Miami Conference could offer Bitcoin and the crypto market some short-term support. The event is set to start tomorrow Wednesday and could see important bullish announcements like last year.